If you have ever been to the Duck Race, you will know how much fun it is for all the family.
To make the web site look great, we want to have lots of lovely photos from the day so we are running a competition.
Please share your photos from the day on the Storrington Duck Race Facebook page and we will pick the best photo.
The winner will receive a Duck Onesie just like the one you will see walking around on the day…..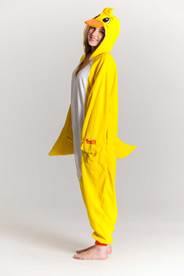 Terms and Conditions
– Please only post your own images from the day
– DO NOT post images unless you have express permission from all those who are identifiable.
– Please note that, having posted an image, responsibility lies with you to ensure such permission has been secured
– The Storrington Duck Race Facebook Page is a public group and can be seen by all
– Nancy Squires and Julie Fourcade will select the winning image and the winner will be informed by 16th May, the prize will be ordered to size and may take a few weeks to arrive
– FOSS reserve the right to use the winning image in pr activities
– the judge's decision is final and no communication will be entered into